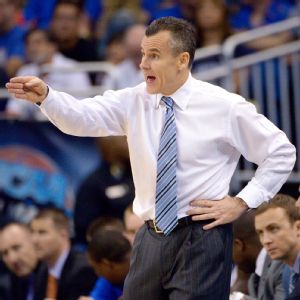 Billy Donovan won't guarantee he will be back at Florida next season.
Five NBA jobs are currently open — including the Cleveland Cavaliers, who have reportedly shown interest in Donovan, winner of two NCAA titles with the Gators.
"I think when you start making guarantees about life and start making guarantees about where you're going to be, that's not good because if for some reason I ever change my mind and did something, I wouldn't want (people) saying, 'Well, he promised, he guaranteed, he said this on record,'" Donovan said, according to the Associated Press. "I just think when you start doing that, that's a mistake."
Donovan left Florida briefly in 2007, agreeing to become coach of the NBA's Orlando Magic. He changed his mind a few days later, returned to Gainesville and has been there since. He just finished his 18th season at Florida, where he has guided the Gators to two national championships and four Final Four appearances.
In February, Donovan got a three-year extension that raised his average salary to $3.7 million over the final six years of the deal, which runs through the 2018-19 season.
"All I can say is I love Florida, I'm happy here … the school's been great to me," said Donovan, who turns 49 on Friday. "But at the same point, some of the NBA stuff, as I've said before, is intriguing in a lot of ways — the basketball part of it. That's not to say that I'm unhappy here; that's not the case at all."
In April, Louisville coach Rick Pitino said he thinks Donovan would be a "terrific" NBA coach, but said he'll likely get "cold feet" and won't make the jump.
"Billy would be terrific because he's a lot like Brad Stevens in his personality," Pitino, who coached Donovan at Providence, said on ESPN's Mike & Mike.
Pitino added: "A Brad Stevens, he can adjust [to the NBA]. He has the personality and Billy Donovan has the personality."
In the end, though, Pitino said he thinks Donovan will get "cold feet" and won't make the jump.
"I think Billy always gets cold feet at the end because with him it's always been about team and family," Pitino said. "More than any person I've met in my life and encountered in my 40 years of coaching, Billy Donovan has his priorities more in line than any person I've ever met."
(The AP contributed)
Follow Adam Zagoria on Twitter
---
---
---
---