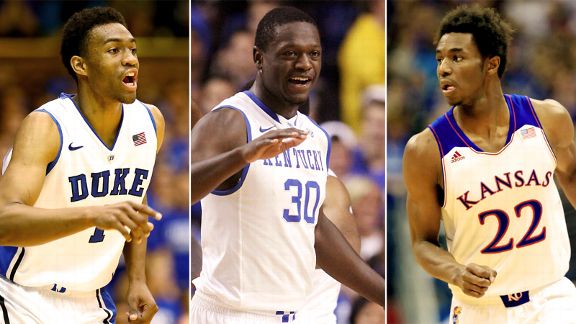 CHICAGO — Just getting settled in here for tonight's Champions Classic at the United Center.
Here's six quick storylines heading into tonight's games, which feature four of the top five teams in the AP Top 25: No. 1 Kentucky vs. No. 2 Michigan State (7:30 p.m. EST) and No. 4 Duke vs. No. 5 Kansas (10 p.m EST).
1. No. 1 vs. No. 2
The No. 1 and No. 2 teams in the Associated Press Top 25 have previously met 39 times (according to collegepollarchive.com), with the No. 1 team posting a 20-19 record. The top two teams in the poll have not met since Feb. 23, 2008 (No. 1 Memphis vs. No. 2 Tennessee). The No. 2 ranked team has won the last two meetings and six of the last eight. Prior to this meeting, the earliest meeting between No. 1 and No. 2 was Nov. 29, 1975 (No. 1 Indiana vs. No. 2 UCLA). It's also worth noting that this is the first time since the 2008 National Semifinals that four of the top five teams in the nation will play in the same venue on the same day.
2. Diaper Dandies Everywhere
Five of the top 10 projected picks in the 2014 NBA Draft according to DraftExpress.com will be on display: No. 1 Andrew Wiggins (Kansas), No. 2 Julius Randle (Kentucky), No. 6 Joel Embiid (Kansas), No. 7 Jabari Parker (Duke) and No. 8 Andrew Harrison (Kentucky). All five are freshmen.
The sophomores aren't bad either. Kentucky's Willie Cauley-Stein is projected at No. 15, Michigan State's Gary Harris is No. 16, Duke's Rasheed Sulaimon is No. 27 and Kentucky's Alex Poythress is No. 28.
And MSU senior Adreian Payne is No. 26.
3. Jabari Parker's Homecoming
The 6-foot-8 Parker is returning home to the Windy City, where he starred at Chicago Simeon. His homecoming present? A matchup with Wiggins, the player who ultimately replaced him atop the Class of 2013 recruiting rankings, and Kansas in a nationally televised affair.
"It'll be exciting to play Kansas," Parker told the Charlotte Observer when asked about playing against Andrew Wiggins. "Playing the alma mater of Wilt Chamberlain and the greats. That's like us when Grant Hill was here. I want to play Kansas. We want to beat Kansas, Duke vs. Kansas."
Everyone may try to make it about Parker against Wiggins, but Robert Smith, Parker's high school coach, isn't buying in.
"I know how everyone is making it," Smith told the Observer. "It's not going to be Jabari vs. Wiggins. It's going to be Duke vs. Kansas for him."
4. The Julius Randle Show
The debate over who should be the No. 1 overall pick next June will likely last throughout the season and into the draft. While NBA executives and scouts are questioning Wiggins' commitment to playing hard and "sustain being in attack mode," as one NBA executive told SNY.tv, no one is floating those questions about the 6-9 Randle. The freshman from Texas enters this game against MSU averaging 22.5 points and 14.5 rebounds in his first two-games. Michigan State coach Tom Izzo praised Randle Tuesday during an interview with Andy Katz of ESPN, and it won't be a surprise if the Spartans opt to double Randle, who has surprised Izzo with his ability to handle the basketball and take it off the bounce for such a big man. Jay Williams is comparing Randle to LeBron James in terms of body type, and while comparing any of these guys — Wiggins, Randle or Parker — to King James is unfair, the physical comparison is understandable.
5. NBA Executives Everywhere
As we reported earlier, nearly 80 NBA executives and scouts will be on hand for tonight's games, allowing them the opportunity to not only assess all the talent but also to talk about potential future trades.
One of them may be destined to draft the next Darko Milicic, however, and only time will tell who that unfortunate executive is.
6. Recruiting Rewards
Jahlil Okafor, the 6-10 big man from Chicago Whitney Young who is projected as the No. 1 pick in the 2015 Draft, is expected to attend the games.
Ironically, he will announce his college choice on Friday and is expected to land at either Duke or Kansas.
His father says Jahlil has already made up his mind, so tonight's game between Duke and Kansas will have no impact on his decision. But one of those teams will score big on Friday with the likely additions of both Okafor and his running buddy, 6-2 Minnesota point guard Tyus Jones.
---
---
---