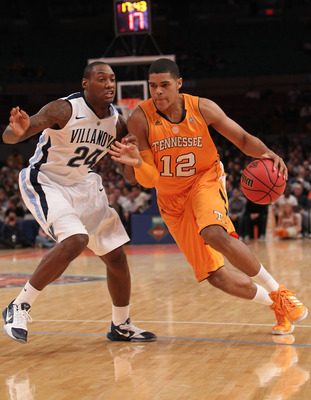 Tobias Harris, the 6-foot-7 small forward out of Dix Hills, N.Y., has signed with an agent and is about to embark upon a series of workouts with NBA teams, including the Knicks.
According to his father, Torrel, Harris signed with Henry Thomas of Creative Artists Agency, who counts Dwyane Wade, Chris Bosh and Udonis Haslem of the Miami Heat among his half dozen clients.
Harris is due to begin workouts today (Friday), and is tentatively slated to work out for Knicks brass June 3. The Knicks hold the No. 17 pick in the June 23 NBA Draft and will reportedly work out shooting guard Jimmer Fredette of BYU June 2.
DraftExpress.com currently projects power forward Kenneth Faried to go to the Knicks at No. 17, with Harris falling to the Washington Wizards at No. 18 and Fredette landing with the Charlotte Bobcats at No. 19.
Harris excelled at the Chicaco Predraft Camp earlier this month, with ESPN's Chad Ford tweeting that he was among a group of small forwards who "looked really good" on May 20.
Harris has lost 13 pounds since the end of the college season as a result of a diet and workouts with speed, agility and strength and conditioning coach Britton Kelly. He has also worked out with NBA great George Gervin, a family friend, and John Lucas.
Harris averaged 15.3 points and 7.3 rebounds in his only year at Tennessee. He was a USBWA Freshman All-America second-team selection and was named to the All-SEC second-team as well as the SEC All-Freshman team.
"He's played terrifically," former Tennesssee coach Bruce Pearl said during the season. "He has played great down the stretch. He's a professional at a very, very young age because of his discipline, his toughness, his mental focus, his preparation."
NO WORD ON WALSH
Knicks president Donnie Walsh and head coach Mike D'Antoni have not addressed the media since the team was swept by the Boston Celtics on April 24.
Since then the Celtics have announced a new five-year deal for head coach Doc Rivers, and the Lakers have reportedly agreed to terms with Mike Brown to become their new coach.
D'Antoni is under contract for the fourth and final year of his contract, but Walsh is not signed past June 30.
Asked by The New York Times if there were any plans for an announcement on Walsh's future, a team spokesman said, "We have nothing planned right now."
RELATED CONTENT
**Tobias Harris to remain in NBA Draft
Follow Adam Zagoria on Twitter
---
---
---
---