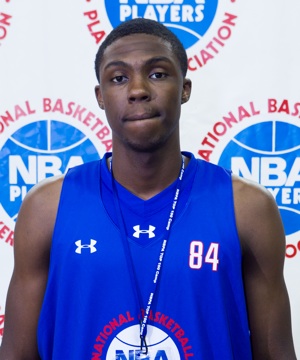 PHILADELPHIA — Ask Kuran Iverson about Memphis's incoming recruiting class and he'll tell you it's better than Kentucky's historic No. 1-ranked group.
"We can be great," the 6-foot-9 cousin of Allen Iverson told SNY.tv after scoring 12 points as Team Perseverance lost to to Team Courage, 116-110, in the Mary Kline Senior Game on Sunday.
"Everybody talking about Kentucky hype, but there ain't really gonna be no Kentucky hype. There's gonna be some Memphis hype."
Do you think you guys are better than them?
"Yeah, way better," he said. "Way better. They talented, we work hard."
That's some strong stuff considering Kentucky's class is considered by some to be the greatest of all time.
Iverson, a Connecticut native, is part of a six-man Memphis class currently ranked No. 3 by ESPN.com behind Kentucky's eight-man group that is headlined by Julius Randle and Andrew and Aaron Harrison, and Kansas's class that features Andrew Wiggins.
A natural small forward, Iverson played some point guard in the Mary Kline game and said he'd like to do the same at Memphis.
"I really want to play point guard but Joe Jackson came back so that's his spot," Iverson said.
"I like being a point guard, I'd rather pass than score."
Iverson heads to Memphis in July and will then be part of a Tigers team that enters the new 10-team American Athletic Conference.
That will mean games against defending NCAA champion Louisville, as well as UConn, Cincinnati, Rutgers, SMU, Houston and more.
"It's gonna be great because I'm close to home [at UConn]," he said. "When we play UConn my mom could just go right down the street and see me play so that will be great."
Follow Adam Zagoria on Twitter
---
---
---
---