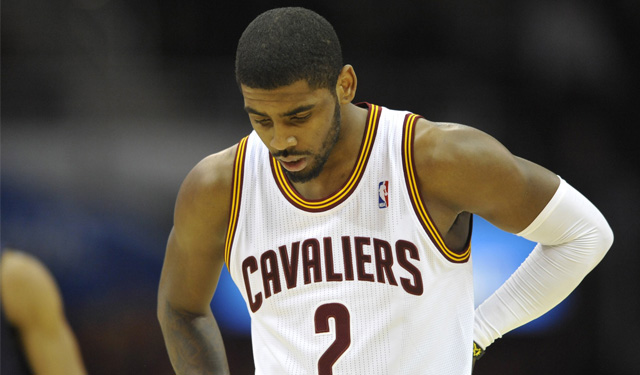 NEW YORK — Following yet another Cleveland Cavaliers' loss, Kyrie Irving addressed the latest round of reports that he wants out of Cleveland — but stopped short of saying he will sign an extension this summer.
"I'm in Cleveland, I enjoy myself," the former Elizabeth (N.J.) St. Patrick star said following his 24-point performance in the Cavs' 117-86 loss to the Knicks at Madison Square Garden.
"I enjoy going out there and competing at the highest level for the Cleveland Cavaliers. And that's what it's about. It's not about me and it's not about this controversy surrounding do I privately want to come out when my contract is up.
"I mean, I'm still in my rookie contract and I'm happy to be here and I'm pretty sure that I'm going to be here for a long time. I'm not saying anything to foretell the future but I'm pretty sure the relationship I have with [owner] Dan Gilbert and management extends off the court and I enjoy being here."
ESPN.com's Chad Ford reported that Irving "wants out" of Cleveland.
"Virtually every GM in the league believes that [Cavs GM Chris] Grant will be gone this summer if things don't get turned around this season," Ford wrote. "Kyrie Irving has been telling people privately he wants out. Cleveland can't afford to lose him and LeBron. They know the urgency. I expect them to be major players at the deadline."
Irving remains on his rookie contract through next season, and he becomes a restricted free agent in 2015. He could sign a deal similar to the five-year, $80 million contract John Wall signed last summer with the Washington Wizards, but for the second time denied to reporters he will sign it.
"Like I said, it's still too early to say," Irving said. "I'm still trying to get through this season. But everybody is trying to antagonize this team and put it on me to [say] privately he wants out.
"I'm here for my teammates. I'm here for Coach [Mike] Brown and the coaching staff and I'm going to play my heart out every single night for the Cleveland Cavaliers."
Follow Adam Zagoria on Twitter
---
---
---
---