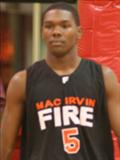 Mac Irvin, known as the "Godfather" of Chicago basketball, died Saturday at the age of 74, the Chicago Tribune reported.
A diabetic, he had been hospitalized since July while battling complications from the disease.
"Today we lost a father, brother, husband and friend to many throughout the world," his family said in a statement. "We are comforted by the outpouring of support shown to our family over the last few months. The Irvin family is committed to continuing the legacy of Mac Irvin through his foundation, but more importantly, by following the example he left for us through his life's work."
In 1992, Irvin formed an AAU program in his name, the Mac Irvin Fire.
The most recent star to emerge from that program is 2013 forward Jabari Parker, considered by some the best player in the country regardless of class. Parker is being courted by  Duke, Kentucky, Michigan State, Kansas and Illinois, among others.
"My condolence goes out to the Irvin family," Tweeted Damon Jones, who has played for more than 10 NBA teams. "MAC was a super dude and did a lot for our youth with his aau program."
Follow Adam Zagoria on Twitter