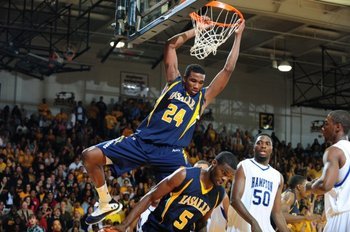 Aaric Murray has not yet decided between West Virginia and Oklahoma State despite his Tweets over the weekend indicating he was headed to West Virginia, an adviser to Murray said Monday by phone.
The adviser requested anonymity but said Murray's Tweets were done in a "dare-type situation and he was having fun" and they were "more of a prank than anything else."
Over the weekend, the 6-foot-10 Murray Tweeted: "I'm the newest member of the west Virginia team!"
The source said Murray might issue a correction via Twitter at some point today or tomorrow.
"It was done and we have to move forward," the source said of Murray's Tweets.
Murray is transferring from La Salle and will have to sit out next season wherever he lands.
The source also forwarded a text message that he said was sent to Travis Ford at Oklahoma State and Bob Huggins at West Virginia, which reads, "Although there has been rumors claiming Aaric agreed to a commitment, we would like to officially report that as of [this] date, we are still reviewing our options. We are scheduled to have several calculated meetings to discuss the pros and cons of each program."
The source added by phone:  "Right now it's between OSU and WVU. We're going to meet today and tomorrow and Wednesday, and Thursday we're going to call the schools. We'll let everybody know what the decision is.
"We're gonna hold a press conference on Saturday."
The source said he and Murray would consider a number of factors, including teammates, coaches, practice facilities, number of TV games, fan support and chances of the program being in the Top 5 in 2013.
"No matter what we're going to make sure the decision he makes is a business decision," the source said.
"Both of them have a very good chance of being the school."
Follow Adam Zagoria on Twitter
---
---
---