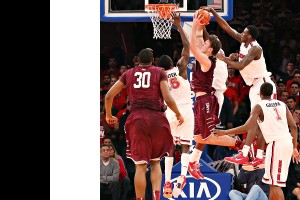 NEW YORK — St. John's freshman Chris Obekpa hasn't quite made an impression on NBA personnel just yet.
"I don't think he's on many people's radar yet," said Jonathan Givony of DraftExpress.com. "He'll need to show himself in the Big East. But what he's doing is interesting."
What Obekpa did Saturday night was certainly pretty interesting.
He had 11 blocks, seven points and five rebounds in St. John's 58-47 victory over Fordham at Madison Square Garden, breaking his own single-game school-record of eight set on opening night Nov. 13.
Listed at 6-foot-9, Obekpa is really closer to 6-7 1/2, St. John's coach Steve Lavin said after the performance that highlighted a school-record 15-block effort for the Johnnies.
Obekpa entered the night fourth nationally in blocks but will move up the list possibly to as high as No. 2 because he's now averaging 4.9 through 10 games. Jeff Withey of Kansas leads the nation at 5.7.
"He's unique," Lavin said of Obekpa, whom he secured in the spring signing period last year out of Our Savior New American.
"In my 25 years as a coach and broadcaster, I've never seen anything quite like Chris because he doesn't have the 7-foot-1 Tyson Chandler size. But the combination of his basketball intellect and his length and timing is what separates him from anyone I've seen."
Obekpa — and his fellow St. John's freshmen — had never played at the Garden before, so he said he wanted to make his debut a special one.
"I've been waiting for this moment," said Obekpa, who also considered DePaul, Providence and UConn. "That's one of the reasons I came to St. John's. So when I came I had to bring the best out."
Obekpa went for five blocks in the first half, swatting shots in the paint despite Fordham coach Tom Pecora's suggestion that his players not take the ball to Obekpa. Still, the Johnnies trailed 27-24 at the break.
"Obviously, he's a defensive force," said Pecora, whose club dropped to 1-8. "We showed tape of him. We said if you bring it to the rim soft, he's going to go get it. And, you know, he did. We brought it to the rim soft a number of occasions, as we all know with shot-blockers you got to take it right at them and right up their chest, and we gave him great angles to block shots. He is a very talented shot-blocker."
Obekpa keyed a 34-20 St. John's second half, firing up his teammates, including JaKarr Sampson, who finished with 16 points, 10 rebounds and three blocks of his own.
"It just gets us all energized," SAmpson said of the blocks. "It's kind of like a dunk but on the defensive end. It makes us all want to be there with him. We definitely needed that in the second half."
Obekpa went for 20 blocks in high school on at least one occasion with Lavin watching him, and believes he can do the same in college.
"That's what I'm hoping to do," he said. "Gradually, but I'll get there."
FORDHAM TO GET GASTON BACK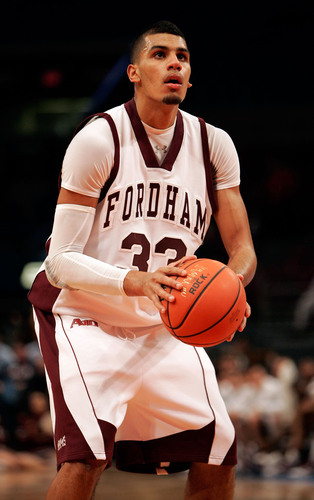 Pecora said he expects senior forward Chris Gaston back Saturday against Princeton.
The 6-7 Gaston has been out with a knee injury and underwent surgery Nov. 16. He was averaging 11.3 points and 8.7 rebounds after averaging 17.1 points and 9.9 boards last season.
"Chris is a catalyst for it [winning] and the timing of his injury was horrible," Pecora said. "Two games into the year, you plan on playing with him."
Still, Pecora said his team will "be even better" once Gaston returns because other players have gotten playing time and Gaston has gotten a month off.
"We have to turn this into a positive," he said. "I beliive we'll  be a better team later in the year because of his injury. His motor will be even better because he's had a month off, and I think the young guys will be even better because they've had this time."
Photo: USA Today Sports
Follow Adam Zagoria on Twitter
---
---
---
---