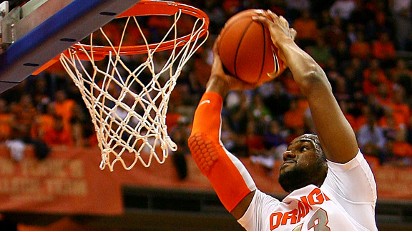 Former Syracuse sharpshooter James Southerland continues to work out for a slew of NBA teams with an eye toward getting chosen in the June 27 NBA Draft.
The 6-foot-8, 221-pound Queens native is at the Memphis Grizzlies today (Friday) after visiting the Washington Wizards Thursday, his agent, Mark Bartelstein, told SNY.tv.
He has the Detroit Pistons, Indiana Pacers, Portland Trail Blazers, Utah Jazz and San Antonio Spurs coming up.
Southerland has already worked out for Milwaukee, Minnesota, Houston and the L.A. Clippers.
DraftExpress.com does not project Southerland to get drafted, but Bartelstein says he could go in the "20-40 range."
"He's done really well," Bartelstein said. "There's teams looking at him in the first round, certainly a lot of teams looking at him in the top of the second. So he's in that 20-40 range.
"He's an elite shooter who's got great size and athleticism. He's very long and athletic. He's gonna rebound and he can guard people and he shoots the heck out of it. He's one of those more athletic wings who can extend the floor for you."
In March, Southerland broke the Big East Tournament record by hitting 18 3-pointers in the event to break Gerry McNamara's record.
"He's athletic and long," a veteran NBA scout said then. "He shoots it from all over. He would be a nice pick for someone wanting instant offense off the bench."
Still, after working out for the Wizards, Southerland told the Washington Post he thought he was under-valued.
"I feel like people are underestimating my athleticism, the energy I bring," he said. "Also leadership. I'm definitely talkative. I stay active, and I stuff it up."
Photo: Getty Images
Follow Adam Zagoria on Twitter
---
---
---
---