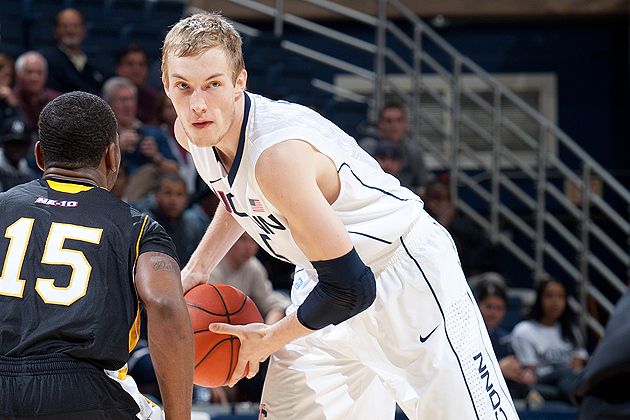 By BEN BASKIN
Special to ZAGSBLOG
NEW YORK — Niels Giffey, a senior from Berlin, Germany, had averaged 3.1 points in 99 games for the UConn Huskies entering  the 2012-13 season.
But after a summer in which the lanky 6-foot-7 forward excelled playing for the German National Team in the EuroBasket 2013 in Slovenia, Giffey looks like a new player.
In a season-opening 78-77 win over Maryland Friday night, Giffey had 13 points and went 3-for-3 from beyond the arc, displaying the sweet shooting stroke that brought him so much success over the summer.  Giffey said that his time spent with the national team—five games in which he averaged over 9 points and went 7-of-10 from deep—had a strong effect on him.
"It changed me a lot," Giffey said.  "It really changed my whole mindset."
Giffey noted that it wasn't just his time on the court, and important role on the team, that helped him grow as a player, but also just being around seasoned professionals such as Tony Parker and Nicholas Batum of France, and Rudy Fernandez and Marc Gasol of Spain.
"I learned a lot playing a lot and also learned off the court just talking to the older guys," Giffey said. "Just trying to adapt to that pro mentality, they've seen so many things and been through so many fights they told me a lot. I gained a lot of confidence."
And while Giffey's minutes dropped in the second half of Friday's game—12 in the first opposed to five in the second—coach Kevin Ollie praised the German forward for "his aggressiveness coming off the bench" and said that the minutes decrease was just because he saw "how the game was flowing."
"Niels is a professional," Ollie said. "He's going to be able to do his job no matter if I play him 40 minutes or if I play him four."
If Giffey can perform on a consistent basis, especially with his deep shooting ability, he could prove  invaluable to an already talented UConn team and allow playmakers like Shabazz Napier and Ryan Boatright much more room to operate.
"It makes it easier for me," Napier said.  "Two guys will come to me and I'll just give it to Niels and when they see me pass it to Niels I can just go by my defender because he so worried about Niels now. It makes us so versatile and it makes it so much easier."
Follow Adam Zagoria on Twitter
---
---
---
---