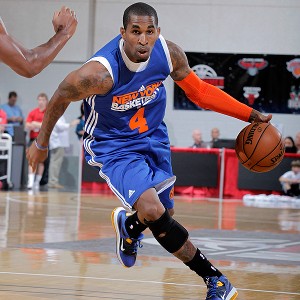 GREENBURGH, N.Y. — Former Knicks guard Chris Smith hopes to return to the team next year after undergoing knee surgery this season.
"They told me to wait until summer league and then go from there," Smith, the New Jersey native and former Louisville standout, told SNY.tv exclusively following practice Sunday. "I'm pretty confident that I'll make the team next year."
Smith was waived by the Knicks on Oct. 26, but is rehabbing his surgically-repaired knee at their facilities. Even though he's not under contract, he said he hopes to be scrimmaging with the team by April.
"I'm recreating my body, really," he said. "I'm probably about 75 percent but I feel stronger now than I was before."
Smith, who made the recent trip to London, said he's learned from just watching and being around the Knicks' veterans.
"I learned a lot from Jason Kidd, Melo, Raymond [Felton] and most of the point guard position I watched," he said. "I learned a lot about the mental part of the game, too."
Smith said he and Anthony exchanged some smack talk over Saturday's Syracuse-Louisville game, won by the Orange, 70-68.
"He gave me grief in the locker room because I was talking big-time in the lockerroom," Smith said, before adding of Michael Carter-Williams' late-game steal and dunk. "It was a lucky play, it happens."
He added: "We went down yesterday, but Russ Smith is still the best player in the country."
Follow Adam Zagoria on Twitter
---
---
---
---