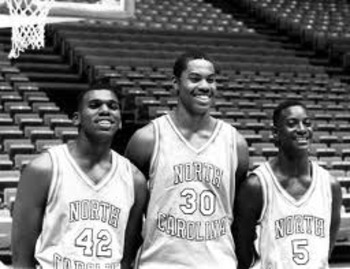 NEW YORK — While Monday's Knicks-Nets matchup will mark the historic first showdown between New York City's two NBA teams, it will also mark a reunion for several former North Carolina Tar Heels.
Knicks forward Rasheed Wallace and Nets guard Jerry Stackhouse both played for the 1994-95 North Carolina team that was coached by Dean Smith and reached the Final Four before losing to Arkansas.
"It's not like we're both going to battle each other out there," Wallace said Sunday after scoring 15 points in the Knicks' 121-100 win over his former team, the Detroit Pistons, despite a sore foot. "Probably going to see who has the loudest voice coming from the bench or whatever.
"But it's awesome, though. That just shows longevity. Stack's been around just as long as I have and he knows how to take care of his body."
Stackhouse and Wallace were the No. 3 and 4 picks in the 1995 NBA Draft, with Stackhouse going to the Philadelphia 76ers and Wallace to the then-Washington Bullets. Joe Smith and Antonio McDyess were the top two picks, respectively.
Because Wallace has taken two years off in a semi-retirement, he has actually played two fewer seasons in the NBA than Stackhouse.
The 6-foot-11 Wallace has been a pleasant surprise so far, averaging 8.2 points and 4.1 rebounds for the first-place Knicks (9-3).
Stackhouse is averaging 4.4 points and 1.3 rebounds in a reserve role for the second-place Nets (8-4).
Wallace said the two old teammates see one another in the summer in "Chapel Thrill," but there's no money on the line in this one.
"More bragging rights in the summertime, that's about it," he said. "No money on the line."
The Knicks also feature another North Carolina alum in point guard Raymond Felton, who won the 2005 NCAA championship under coach Roy Williams.
North Carolina won that title by beating an Illinois team that featured current Nets point guard Deron Williams.
Felton, however, is more concerned with winning a divisional game than with his matchup with Williams.
"I think we had six or seven guys in double-figures [against Detroit]," Felton said. "That's the way we want to play, especially going into the game [against Brooklyn]. We really want to get back into that mode. The way we defend. It's going to be a tough one [Monday] night."
Follow Adam Zagoria on Twitter