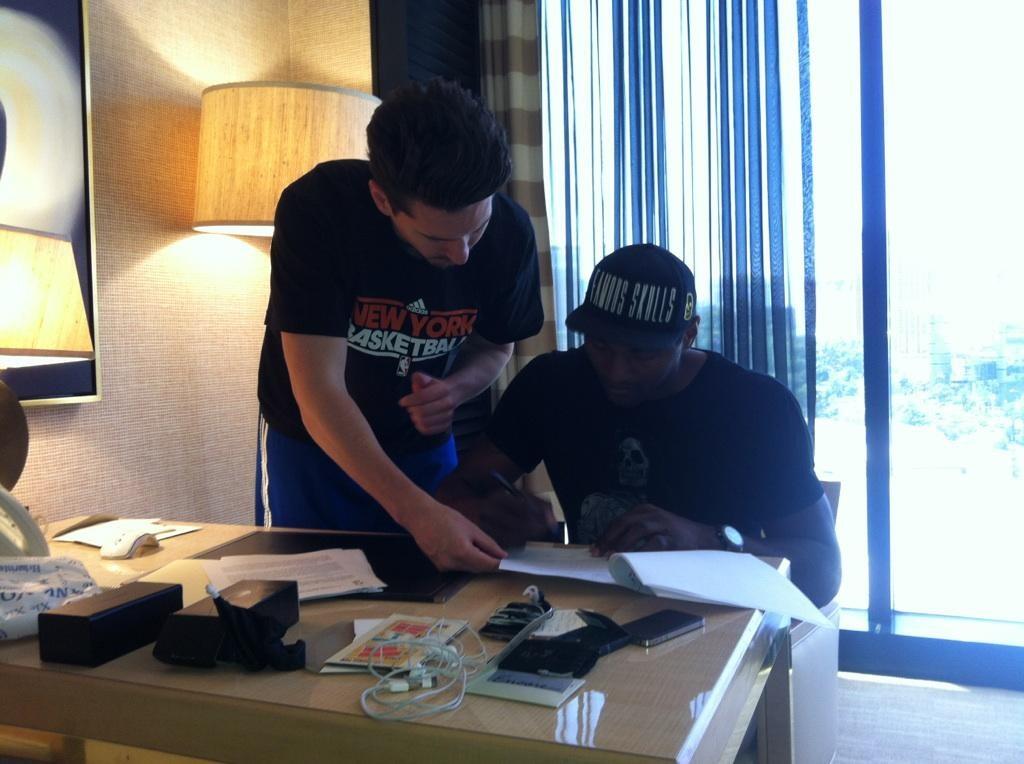 World Peace is coming to Madison Square Garden.
The Knicks on Tuesday officially announced the signing of Metta World Peace, reportedly for a two-year deal worth $3.2 million, with GM Glen Grunwald calling him the "missing piece" that the team needs.
It remains unclear if the Queensbridge, N.Y., native and former St. John's star will start or come off the bench, but his addition certainly gives head coach Mike Woodson options in the frontcourt.
"The starting and bench roles will be determined by the coach and we're going to do what's best for the team to put us in the best situation to win," Grunwald said on a conference call. "So he could easily start or he could come off the bench. Like he said he's willing to go from the starting lineup to sweeping the floor, which was a great line."
The 6-foot-7 World Peace, 33, holds career averages of 14.1 points, 4.7 rebounds, 2.9 assists and 1.85 steals over 33.6 minutes in 902 games (832 starts) over 14 seasons with Chicago, Indiana, Sacramento, Houston and the L.A. Lakers.
The Knicks famously skipped World Peace — then known as Ron Artest — on the 1999 NBA Draft in favor of Frederic Weis, who never played a game in a Knicks uniform.
"We love Metta's heart and his spirit, his toughness," Grunwald said. "We think he has a lot left to give in all those different ways in addition to his skill level on the court.
"We're excited to have him and we think he's going to be a big contributor to our team this coming season. And he got rave reviews from everyone in the Laker organization in terms of his personality and being a good teammate and being a good player."
World Peace flirted with playing for Yao Ming's Shanghai Sharks, and texted SNY.tv that he would play in China.
Grunwald said he knew that was an option, adding: "We were always pretty optimistic that he wanted to come to New York."
Woodson now has a plethora of options at the three and four spots but must also manage egos and expectations, with the additions of World Peace and Andrea Bargnani to go along with Carmelo Anthony and Amar'e Stoudemire.
The Knicks had their greatest success last season with Anthony at the four, and he can now remain there if the Knicks start World Peace at the three.
"He gives us the versatility to play different ways, whether big or small," Grunwald said of World Peace. "Defensively, he'll add a lot to our team. His contributions in the locker room will add a lot to our team. His ability to shoot the 3, especially the corner 3, will be very important to us. And his ability to guard all sorts of different positions is absolutely critical."
As for Stoudemire, who underwent two knee surgeries last season, he is likely to be on a minutes-restriction this season, but Grunwald insisted he could return to his All-Star form.
"Amar'e can certainly come back to All-Star status," Grunwald said.
Still, it remains likely that Stoudemire — who signed a $100 million deal in the summer of 2010 — will become a role player sharing minutes in the frontcourt with Anthony, World Peace, Bargnani and possibly Kenyon Martin, if he is re-signed. Grunwald said the Knicks are "having discussions" with Martin's agent.
"We're very hopeful that Amar'e will be a key contributor for us next season," Grunwald said.
"I know that he had some injuries this last year but we're hopeful we'll be able to manage that going forward and that he'll play as much as he possibly can and be a key contirbutor to our success hopefully.
"I don't think either Metta or Andrea necessarily impact his role. They're all good players and good players will play."
Follow Adam Zagoria on Twitter
---
---
---
---