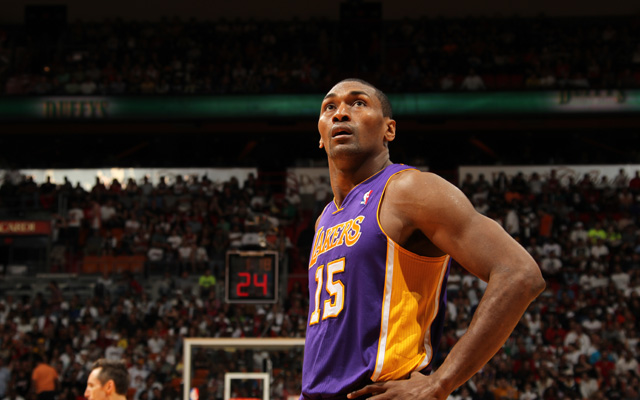 Metta World Peace has been amnestied by the Lakers and could wind up with his hometown New York Knicks if he chooses not to retire.
"My gut says he'll be a Knick," his father, Ron Artest Sr., told SNY.tv Thursday.
The father previously told SNY.tv that his son told him he planned to retire if he was amnestied.
But now Artest Sr. is changing course.
"He wanted to play for the Knicks for a long time," his father said. "But now I'm not sure of his plans. I just hope he's a Knick before it's all said and done."
And others close to World Peace feel the same way.
"What kid doesn't want to give a shot coming home to play for New York," Cardozo High School coach Ron Naclerio, a longtime confidant of World Peace, told SNY.tv earlier this week, "especially because of how hurt he was when he wasn't drafted by the Knicks."
The Knicks need a small forward and could use the $1.4 million veteran's minimum to bring the 33-year-old World Peace home.
The Knicks famously skipped World Peace — then Ron Artest — in the 1999 NBA Draft in favor of Frederic Weis.
Now they will wait and see if he clears waivers and becomes an unrestricted free agent.
In making the decision, the Lakers issued the following statement.
"It's tough to say goodbye to a player such as Metta, who has been a significant part of our team the past four seasons. For anyone who's had the opportunity to get to know him, it's impossible not to love him," Lakers general manager Mitch Kupchak said in a release. "He has made many contributions to this organization, both in his community work as well as in our games; perhaps no more so than in his clutch play in Game 7 of the 2010 NBA Finals in helping to lead us over the Celtics in one of the greatest playoff wins in Lakers history. We thank Metta for all his contributions and wish him the best of luck in the future."