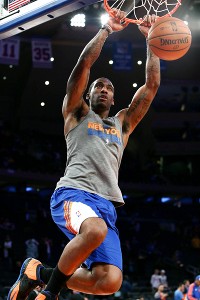 NEW YORK — Perhaps lost in Carmelo Anthony's 42-point outburst and game-winning three-point play Sunday night against the Atlanta Hawks was the continued progression of Amar'e Stoudemire.
Stoudemire went for 18 points, eight rebounds and one block in the Knicks thrilling 106-104 victory.
Stoudemire scored eight points in the fourth quarter, including six straight at one stretch and two key foul shots that gave the Knicks a 103-102 lead.
"It's a matter of getting rhythm back," Stoudemire said of his play in the low post. "Experience is the best teacher. The more I'm out there the better. My rhythm becomes easier for me. I am just trying to take my time and progress as the games build up."
In 12 games since returning from offseason knee surgery, Stoudemire is averaging 12.6 points and 4.3 rebounds.
In his last five games, he has gone for 18, 20, 15, 15 and 17 points off the bench. As the ESPN guys pointed out on the broadcast, if he and Anthony are not complementing one another, they are peacefully coexisting.
"He's been active the last four or five games in terms of when the shot goes up he's able to get it and score," coach Mike Woodson said. "He's just active and I think he'll continue to get better.
"We just have to continue to ride him and push him in the right direction."
The Knicks have just begun a five-game homestand and next play Wednesday against Orlando. They will need to continue to defend homecourt at the Garden in order to solidify a top two seed in the Eastern Conference, thereby avoiding the Miami Heat until the Eastern Finals.
Stoudemire can play a critical role going forward.
"He's playing great right now — he's giving us great scoring off the bench and great scoring in general," Tyson Chandler said. "He's giving us a great post presence and is also passing well off the double-team."
Photo: ESPN.com
Follow Adam Zagoria on Twitter
---
---
---
---