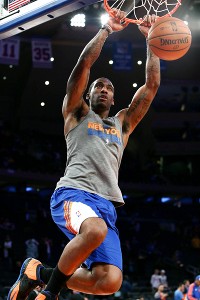 NEW YORK — It appears the Knicks won't unveil Amar'e Stoudemire at any point during their upcoming three-game West Coast swing, but Marcus Camby vows to return on Christmas.
"No, I don't think he will be available [on the trip]," Knicks coach Mike Woodson said of Stoudemire ahead of Sunday's game against the T-Wolves.
"He's just not ready to go. I don't foresee that. I just don't."
Camby, however, told reporters he would be available against the Lakers on Tuesday.
"I just have to get my number called," he said, according to ESPNNewYork.com. "I'll be available Tuesday."
Camby has missed 12 games because of plantar fasciitis, which the Knicks have been calling a "sore foot."
"It's been frustrating. I've been a starter the majority of my career," said Camby, 38. "Coming here and not really getting an opportunity because of my calf in the preseason and things of that nature. But at this point in my career, I'm not asking a lot of big minutes. Our depth that we have on this team enables me to do that. I'm just looking forward to this trip and the rest of the season."
Stoudemire practiced several times this week and there had been some thought that he might make his debut Sunday after undergoing offseason knee surgery.
He will make tonight's voyage to Los Angeles for the trip that features games against the Lakers on Christmas, Phoenix on Wednesday and Sacramento on Friday.
But  Woodson wants Stoudemire to practice more before he plays, meaning it's likely he wouldn't play until after they return. After the New Year, the Knicks host Portland Jan. 1 and Sacramento Jan. 3.
"My talk with Amar'e [Saturday] first and foremost was about: 'Are you healthy enough to play?' Woodson said. "He's still not at that stage. He's still in the process of feeling good about himself when he's out there working out. And we've got some practice days coming up when we come back. And I think that would be a good time to get him out on the floor, running and banging around with his own teammates, and just see where he is."
Rasheed Wallace remains day-to-day.
The Knicks revealed Saturday he has a stress reaction in his left foot, as opposed to the sore left foot they initially called it. He is listed as day-to-day but a doctor told SNY.tv Saturday that he would need to miss three weeks with that diagnosis. He hasn't practiced in 11 days.
"Eventually I'm going to get everybody back," Woodson said. "We just gotta make sure that we hold the fort down until everybody's back out on the floor and ready to go. Eventually, I think it will come."
Photo: USA Today
Follow Adam Zagoria on Twitter