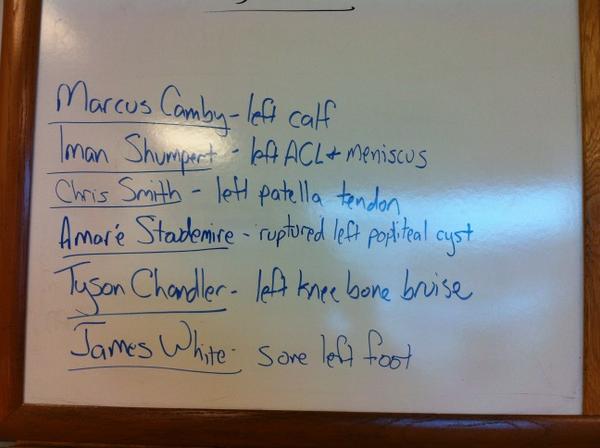 GREENBURGH, N.Y. – The Knicks' injury list is long and seemingly growing longer every day.
Just take a look at it.
Six names were listed under "Injuries" on the Knicks' white board on Friday, three of them belonging to frontcourt players.
Amar'e Stoudemire could be out as many as 4-5 weeks with a knee injury according to a Daily News report, and is doubtful for the season opener Nov. 1 at Brooklyn. Marcus Camby is bothered by a left calf ailment and is also unlikely for the opener.
"Don't know, probably not," head coach Mike Woodson said Friday of Stoudemire and Camby. "Eventually those guys will be back, when they're coming back I don't know."
Tyson Chandler is out until sometime next week — possibly Monday — with a bruised left knee.
Enter Rasheed Wallace.
The 6-foot-11 Wallace scrimmaged for the first time Friday and head coach Mike Woodson said he was impressed.
"I thought Rasheed looked pretty good," Woodson said. "He got through the conditioning, we banged a little bit early at the top of practice and then right there at the end, we banged a little bit. So I think he's gonna be fine. He's gotta get a little more game-shape. That's expected."
Wallace hasn't played in an NBA game in two years, but could become an important piece early for the Knicks — especially if Stoudemire and Camby remain out.
"We'll scrimmage [Saturday] quite a bit and he'll get an opportunity to run up and down and then see how he feels the next day," Woodson said.
Wallace declined to speak with the media Thursday, instead rushing out of the gym and saying, "I gotta get to this meeting, my man."
During Wednesday's preseason finale against the Nets, Wallace was very animated on the bench, shouting at his teammates and the officials so loudly that Chandler said he heard Wallace from the locker room after he was sent there with the injury.
"He can bring so much," Chandler said. "His vocal leadership out there, especially on the defensive side. He can spread the floor, big body. Having another big body just you can throw out there means a lot."
Now, Wallace could be pressed into service during the early part of the season even though not much was initially expected of him. His contract doesn't become fully guaranteed until January.
"I'm just looking for, can he keep up," Woodson said. "That's the name of the game. Can he still compete and do the things necessary from a defensive standpoint.
"I still think he can make a shot, that's not my worries. My worries is he can defend the post, he can get up and down the floor, defend pick-and-roll action. That would be anybody's concern as coach.
"Today was a first step for him, but I think he's excited about being back out on the floor."
 FREE THROWS
J.R. Smith also returned to scrimmaging after missing five exhibition games with an Achilles' injury. "J.R. looked good today, too," Woodson said. "He had contact today and as we were going through various drills I was asking him if he was OK and he said he was fine."….Carmelo Anthony had a recovery day and didn't scrimmage. "I'm not too concerned about Melo," Woodson said….James White (sore left foot) did not practice.
Photo: Jared Zwerling, ESPN.com
Follow Adam Zagoria on Twitter