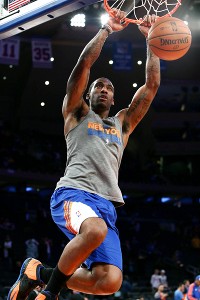 NEW YORK — Knicks coach Mike Woodson will huddle with Amar'e Stoudemire Saturday morning to map out the power forward's schedule leading up to his return.
Woodson did not rule out Stoudemire making his debut for Sunday's game against the Minnesota Timberwolves, but gave no firm return date.
"I still don't know yet," Woodson said before the Bulls game.
"I'm going to sit and probably have a long talk with him [Saturday] morning when I get into the office over at our training facility, and I will sit down and talk and just kind of map out and see where he is."
After Sunday, the Knicks visit the Lakers Tuesday, Phoenix Wednesday and Sacramento next Friday, so it's possible he could debut on the road.
After missing the entire season so far after a knee procedure, Stoudemire practiced twice this week — Tuesday and Thursday — with the Knicks' D-League outfit, the Erie BayHawks. Woodson said he'd like the power forward to practice with the Knicks at least once before playing in a game. That could potentially happen Saturday.
"I would like for that to happen, absolutely, before we actually put him back out there, just to see where he is so he can get familiar with the players and the things that we're trying to do as a team from an offensive standpoint," Woodson said.
When he does return, Woodson said he wants Stoudemire to use the new post-up moves he learned this summer from Hakeem Olajuwon.
"We're going to post Amar'e some when he comes back," Woodson said. "I didn't spend this time trying to get him some low-post work this summer not to utilize that, so we will stick him down there and try to get him the ball and then let him work a little bit and see what happens. Along with everything else we do from a pick-and-roll standpoint, he's familiar with that."
Stoudemire said this week he would come off the bench if that's what Woodson asked him to do.
He told reporters Thursday that the Knicks' fast start — they are 19-6 entering this game — has allowed him not to rush back.
"That allows me to have a little more patience than I would if we were losing," he said. "I can see the light at the end of the tunnel. I can see that my health is getting better and better per day. My goal is to return back to my dominant self, and that's what I'm on pace to do."
Follow Adam Zagoria on Twitter
Photo: USA Today