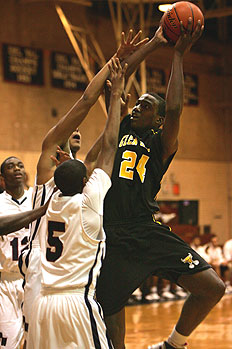 La Salle coach Dr. John Giannini scored a major coup Monday when he landed 6-foot-10 senior big man Aaric Murray out of Glen Mills in Philly.
The story was first reported by Jeff Goodman of FoxSports.com.
Ranked the No. 6 center in the Class of 2009 by Rivals and No. 35 overall, Murray averaged 19 points, 11 rebounds and 2 blocks last season. He is a major score for the Explorers, still recovering from the rape scandal of a few years ago.
Murray wanted to stay in Philly and was considering the city's three Atlantic 10 programs, La Salle, Temple and St. Joe's, along with Rutgers, Marquette and West Virginia. West Virginia had long thought it had a shot for Murray, but he opted to stay home.
"He wanted to stay in Philadelphia," a source said. "He felt comfortable."
La Salle has one scholarship left for the Class of 2009.
The Explorers feature numerous players with New Jersey ties, including 6-8 twins Jerrell and Terrell Williams, who went from Paterson Catholic to Northfield Mount Hermon; Kimmani Barrett of Paterson Catholic; and Yves Mbala and Ruben Guillandeaux of St. Patrick of Elizabeth. The Explorers also get 6-9 Mississippi State transfer Vernon Goodrich of Brooklyn.
(Photo courtesy Philly Inquirer)