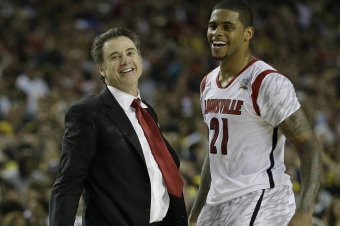 Can Chane Behanan be a 3-man in the NBA?
At least one veteran NBA scout is doubtful.
"He has never shown any 3 skills in two years at Louisville," the scout told SNY.tv. 
According to an excellent piece by Jason King of Bleacher Report, the 6-foot-6 Behanan is working out in Houston with John Lucas after being booted from Louisville after testing positive for smoking weed. He will spend next season at Colorado State (a state where marijuana is legal), but Lucas said he believes Behanan can make the NBA as a 3. King wrote that Behanan works out with the guards at Lucas' facility and recently drained four 3-pointers during a scrimmage.
"Right now NBA people think he's an undersized 4 (power forward)," Lucas told King. "But that's because they haven't seen him play the 3 (small forward). I describe him as a Larry Johnson clone. I'm not saying he's Larry Johnson, but he's in that mold.
"He's so much better that I realized. I had no idea he had that side to his game. I don't think anyone argues whether he can play. What people argue about is his credibility off the court and whether he'll be a good citizen for a team."
Still, the NBA scout is dubious.
"He may be saying that because John knows he will have no shot in the NBA if he said he is a small 4," the scout said.
Photo: AP
Follow Adam Zagoria on Twitter
---
---
---
---