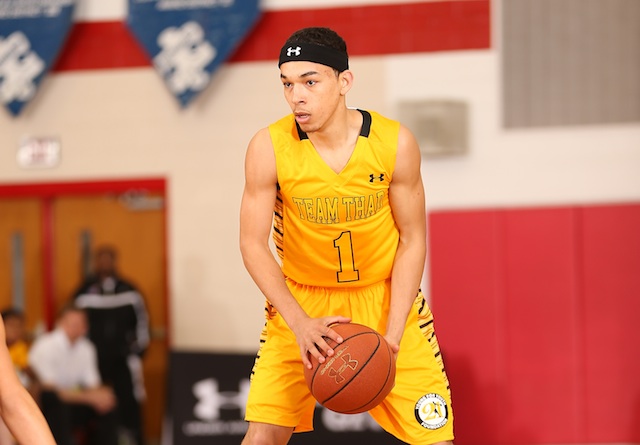 By JEREMY WOO
Special to ZAGSBLOG
FORT WAYNE, IN —Though plenty of bigger names took the court over the weekend at the Spiece Bill Hensley Memorial Run N' Slam, no player meant more to his team than Chris Chiozza.
The 5-foot-10 point guard's stock has skyrocketed during a strong spring, catching eyes with Team Thad at the UnderArmour Pitt Jam Fest and the Gulf Coast Hoopfest the past two weekends. Though Chiozza's talent is by no means a secret, with offers including Florida and Ohio State, his consistent dominance on the court was no less impressive.
"I think the past two weekends were better," Chiozza said. "Still, I think I played pretty well. I helped my team get to the championship, so I can't be mad about that."
Without injured teammate Leron Black for long stretches, Chiozza carried Team Thad to the title game, making everyone around him better in the process. Lightning-quick with silly handles and great defensive instincts, he provided exactly what his team needed, when they needed it.
"Chris does everything," said Black, who returned for the championship game, in which Team Thad fell 77-58 to All Ohio Red. "Defense, passing, scoring, he does it all out there. He's an all-around point guard."
Clutch basket? You got it. Need a steal? No problem. The Memphis native boasts a great understanding of the game, picking his spots to score while looking to set up his teammates first. Thriving in transition, Chiozza is an unselfish scoring point guard—a rare breed. Banged up with several nagging injuries, he managed to steal the show at Spiece.
"It was tough," said Chiozza, banged up after playing his seventh of eight weekend games. "We played four games [Saturday] with only one game in between, but we like playing basketball. We could play 20 games in one day and still play just as hard."
It's easy to see why he's become a priority for a growing number of top programs. He listed the Gators and Buckeyes, along with Butler and USC as his current favorites. He also holds offers including Memphis, Missouri, Tennessee, UConn and VCU.
Brad Stevens and the Bulldogs are in on a number of high-level 2014 prospects, and Chiozza has been especially impressed by what Butler has to offer.
"They got to the championship two years in a row," Chiozza said. "Any team that can do that is big. They have a great coach, and it's a great school. They're definitely up there."
It's easy to see the appeal of Ohio State, who have developed guards including Mike Conley and Aaron Craft under Thad Matta. USC now boasts the Andy Enfield "dunk city" run and gun attack, a natural fit for Chiozza's talents. But the offer from Billy Donovan and Florida might mean the most to him.
"Florida's always been one of my top three schools since I was a little kid," said Chiozza. "I've always loved watching them. I'd also love to play with Kasey Hill and Chris Walker, if they're still there. They're also recruiting my teammate Leron [Black] so that's a school where we could play together."
Chiozza and Black, teammates on the AAU circuit and at Memphis White Station High School, have discussed that possibility. And as their recruitments evolve, it would be no surprise to see more schools make pitches to both of them.
"We haven't said for sure if we're going to go to the same school," Chiozza said. "We've said we want to play with each other. If we don't, we're still going to be like brothers—we've known each other since we were little."
If that friendship continues on the court, look out.
Photo: CBSSports.com
---
---
---
---