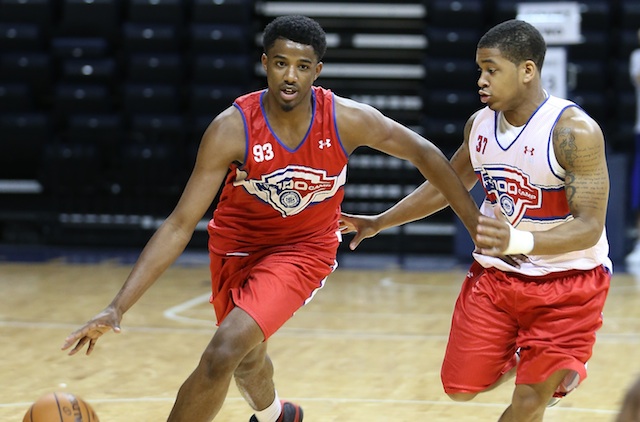 JaQuan Lyle enjoyed his weekend official visit to Memphis and a decision on his college choice is expected later this month when he takes his spring break March 15-23.
"The visit went well," Lumecha Garrett, Lyle's mother, told SNY.tv by phone. "He's supposed to decide over spring when he's at home."
The 6-foot-4 Huntington (W.V.) Prep guard was on hand when Memphis beat SMU, 67-58, on Senior Day on Saturday.
"We liked the whole staff, I liked the school, it's a nice place," his mother said.
Lyle has now taken officials to Oregon, Oklahoma State, Kansas and Memphis.
No other visits are planned.
"He's going to decide between them [the four schools]," his mother said. "No more visits. As far as right now he's going to make up his mind during spring break."
She said the family will sit down and go over all four schools.
"When he comes on spring break we'll just sit and talk about each school about what he likes and he will make a decision," she said. "robably the whole family."
Photo: Kelly Kline/Under Armor
Follow Adam Zagoria on Twitter
---
---
---
---