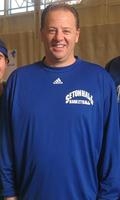 GREENBURGH, N.Y. — Bobby Gonzalez knows a thing or two about being a controversial Big East coach in New Jersey, and so he has a few thoughts on Mike Rice's three-game suspension and other conditions at Rutgers.
Gonzalez, the former Seton Hall coach who said he's now doing some freelance NBA scouting, said he feels empathy for Rice but believes that the Rutgers coach may grow and learn from the experience, which reportedly stemmed from him throwing basketballs at his players' heads during practice. Rice must also undergo anger management, will have a minder at practice and reportedly must make the postseason to keep his job going forward.
He is eligible to return Jan. 2 at Syracuse.
"I would say, first of all, that I think Mike Rice is doing an outstanding job and I mean that sincerely," Gonzalez told SNY.tv Tuesday at Knicks practice.
"I think he's recruited locally, kids in the state of New Jersey. He's developed Myles Mack. I think he's done a terrific job in three years with the players he's getting, so that's the first thing that should be recognized.
"And second of all, I've been there as a coach and when you're looking for different ways to motivate players and you're trying to be creative and you're fired up and you're intense, sometimes you have good ideas and sometimes they're bad ideas.
"But I really feel that if this was let's say Jim Calhoun or Bobby Knight or Rick Pitino, it wouldn't get nearly as much publicity or attention because those guys are big names and they're established."
As for Rice, Gonzalez said, "At the same time, it also will force Mike to grow as a coach because he'll have to be conscious of everything he says and does and in way it might be a helpful thing for him."
Gonzalez and Rice coached against each other once, with Seton Hall coming from behind to beat Robert Morris.
"We had a war and we were very lucky to win the game," Gonzalez said. "We were down 21 points in the second half."
Because of his fiery personality, Rice was compared by some to Gonzalez when he was hired at Rutgers in 2010, the same year Gonzalez was fired at Seton Hall and replaced by Kevin Willard.
"I think a guy like Mike Rice gets kind of an unfair rap in a way because there's a lot of coaches out there that have probably done a lot worse that no one questions because of who they are," Gonzalez said.
Reflecting on his own career, Gonzalez added: "It's always in easier in hindsight to look back and realize that maybe you could've handled some things differently. I could see that. And as a head coach, you can always be a little bit more humble but you don't really know it at the time."
Gonzalez conceded that throwing basketballs at players' heads was a bad idea, and said that he had never done that in his four-year tenure at Seton Hall or at Manhattan.
"No, I don't condone that specific thing, and I don't know all the details," Gonzalez said. "And that specific think it's something I've never done. Even though everyone thinks I've done a lot of things, I've never done that.
"But at the same time coaches, you have to know your players and it's a fine line that you walk with your players, especially in this day and age there's a lot of pressure to win."
As for his own future, Gonzalez said, "Right now I'm doing some freelance scouting, helping some NBA teams, doing some TV and radio. Most of it is probably going to come up more in January and February as the season goes along."
Gonzalez said he's also enjoying spending time with his 5-year-old daughter, Brooke.
"In light of what happened in Newtown, the tragedy, I'm just blessed that I can be around her," Gonzalez said. "The last couple of years it's been an incredible blessing for me to actually see what it's like to be a decent husband, a decent father.
"My heart was broken when I saw that [in Newtown]. I did some clinics and some speaking engagements a couple of miles from there a couple months ago."
Follow Adam Zagoria on Twitter
---
---
---
---