Top 2013 prospect Julius Randle will miss three months with a fractured right foot suffered this weekend at the Thanksgiving Hoopfest and will undergo surgery Tuesday.
"It's a minor setback, but Julius is a fighter," his mother, Carolyn Kyles, told USA Today. "We've already begun to set up rehabilitation for him and he's a naturally a little down now, but he'll be back before you know it. We're just staying positive about everything. We know he'll come back stronger than ever."'
Randle, a senior power forward at Prestonwood Christian, sustained the injury during the first half of the team's loss to Duncanville (TX) on Saturday.
"He'll be ready for the postseason all-star games if not sooner," said Randle's Godfather, Jeff Webster. "It's all a part of the game. These things happen. Now the hard work begins, and it's a challenge for him. The doctor says three months, but he's the type of player that will work hard to be ready before that. We're not rushing anything, but we've got work to do."
Randle is considering Kentucky, Kansas, Texas, Oklahoma, Florida and N.C. State and said he had initially planned to visit Texas and Kansas in December and N.C. State in January. It remains unclear if those visits will go forward as planned.
He is the second high-profile 2013 commit to sustain an injury, following Chicago Simeon forward Jabari Parker, who is battling a fractured right foot first sustained with the USA U17 team in July. Parker will likely miss Simeon's opener Saturday.
"He more than likely won't play in the opener," Sonny Parker, Parker's father, told ESPNChicago.com. "He has to get in shape condition-wise, get his timing and rhythm. Once he starts, it'll probably take a week or two. We just don't know when the time frame is in terms of him playing. He continues to do his rehab. There's no rush. When he gets healthy, he's going to play. When he's not healthy, he's not going to play."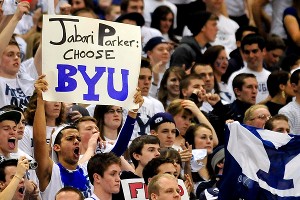 Meantime, the 6-9 Parker visited BYU this past weekend for the BYU-Cal State Northridge game.
His father said BYU remains a real possibility.
"Remember he belongs to the Church of Latter-day Saints," Sonny told ESPNChicago. "They got one of the winningest programs in the last 4-5 years if you look at their record. They average 25 wins a year. They don't get the recognition of others. Their conference isn't that bad. Remember they had the player of the year in Jimmer Fredette. They have a real good program."
He is also considering Duke, Michigan State, Florida and Stanford.
Complicating his recruitment is that Parker could potentially go on an LDS mission after high school.
"We haven't made a decision," Sonny Parker told ESPNChicago. "He's part of the church and everything. He hasn't really talked about it yet. That's going to be his decision whether to go on a mission. His brother went on one. He's familiar with the missions."
Photos: Rivals, ICON SMI
Follow Adam Zagoria on Twitter
---
---
---
---