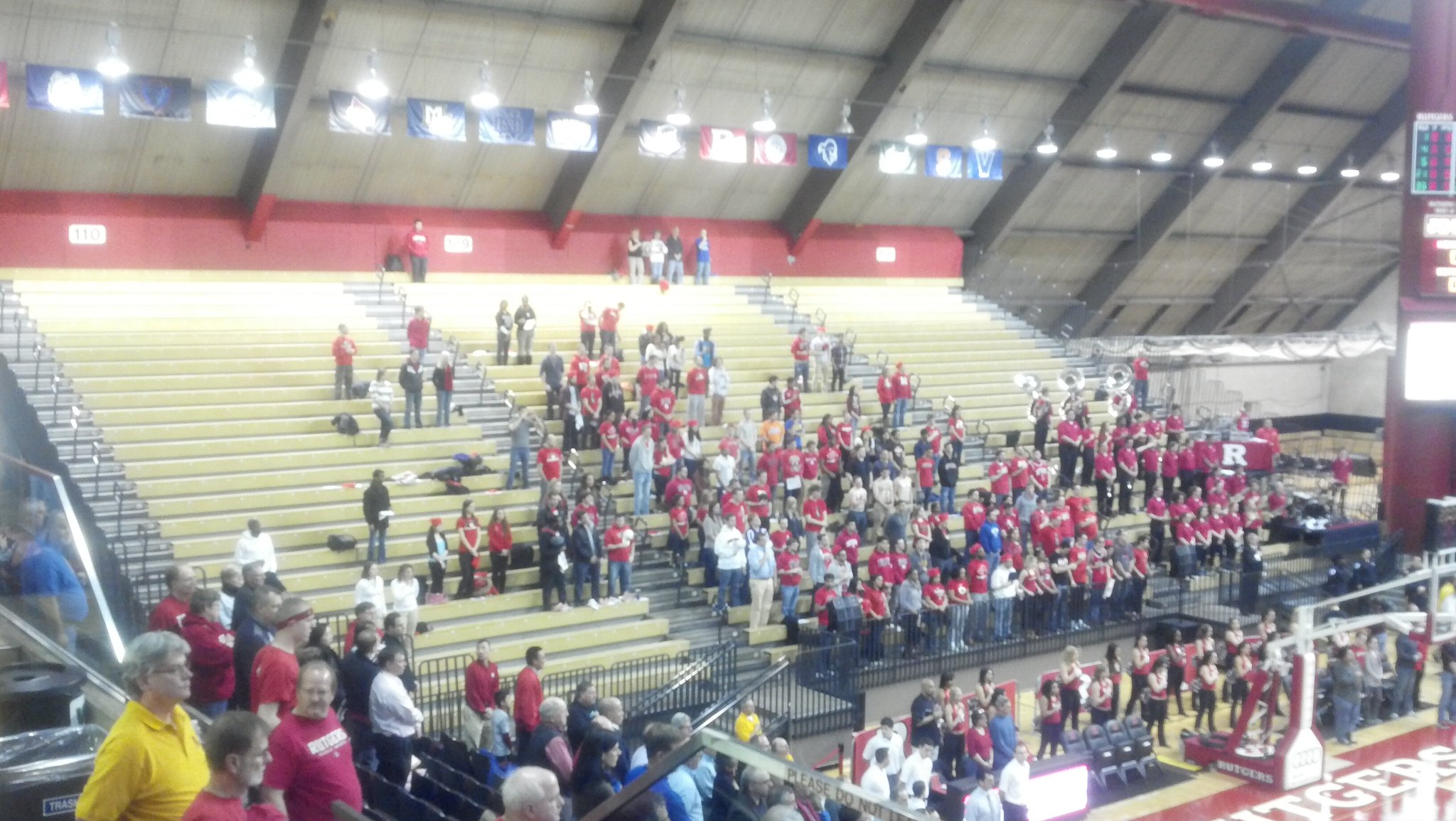 PISCATAWAY, N.J. — This was probably as close to a must-win as Rutgers coach Mike Rice has had in his three-year tenure at the Big East school.
Entering Tuesday's nationally-televised "Turnpike Tussle" with arch-rival Seton Hall, the Scarlet Knights had lost six games in a row dating to a Jan. 17 win over USF.
A year after going losing eight of his final 10 games, Rice was suspended for three games earlier this season and fined $50,000 for reportedly throwing basketballs at his players' heads during his tenure.
But after Rutgers held on through a tenuous final few moments for a 57-55 victory at the Rutgers Athletic Center, Tim Pernetti, the Rutgers athletic director and the man who will decide Rice's fate, gave him a vote of confidence in an exclusive interview with SNY.tv.
"I think it was certainly a must-win for the team given the difficulties they've had as of recently and lately," Pernetti said. "But I think Mike has done a great job with the group this year.
"Certainly it's still a younger group of kids that are evolving and developing and it's a tough league. It's still a tough league."
Rice conceded that he felt some of the heavy pressure lift from his shoulders.
"[The win was] very important," he said. "It's the Big East. You're scratching and clawing to work yourself out of a rut here, and every time people keep throwing more dirt on you, it's hard. It's hard to shake it off and step up and that's what we did tonight."
It had been reported during the time of Rice's suspension in December that the coach had to take the team to a postseason tournament in order to keep his job. He has a five-year contract and is currently in Year 3.
"I don't know anything about any of that stuff," Pernetti said of those reports. "I mean I think you know me well enough to know by now if it doesn't come out of my mouth it's very likely not to be true.
"But I also would tell you that anything that gets discussed between me and Mike about expectations and where we're looking to go stays between Mike and I and we evaluate it at the end of the year."
Rutgers, which hasn't made the NCAA Tournament since 1991, currently stands at 13-10 overall, 4-8 in the Big East.
Entering the game, one Website had them positioned as a No. 7 seed…in the NIT.
"I think it would be great and our goal is to evolve in that way, to get things set the right way, to make it into the postseason and to continue to develop the program," Pernetti said of a postseason bid.
That is a far cry from the demands he put on embattled Rutgers women's coach C. Vivian Stringer for her program.
"Vivian has built a national program," Pernetti told the Star-Ledger, "and that's what we expect: a national championship."
As for the "crowd" at the men's game, which was announced at 5,803 and included a less-than-half-full student section at tip-off, Pernetti conceded that fans don't come to watch losing teams.
"I mean certainly we would like to see it a little more full, especially for this type of game given that it's a great rivalry and it's a local game," he said.
"At the same time, I think Mike said it very, very well. Everybody plays a role in that. We have to do our part too in putting the product on the floor that's going to drive the demand that people want to be here and I think we all are accountable for that."
Rutgers guard Eli Carter, who finished with a team-best 14 points but failed to convert a questionable layup with his team up three points and 14.2 seconds left, agreed with Pernetti's assessment of the crowd.
"We're not winning, so if I was a fan I wouldn't come out, either," Carter told SNY.tv. "We're not winning, so once we start winning I think people will start to come out."
Neither Rutgers nor Seton Hall, losers of six straight now, is winning much now, but Pernetti said he planned to keep the rivalry alive after Rutgers moves to the Big Ten in 2014 and Seton Hall heads to the Catholic 7. He also said he was interested in continuing to play St. John's, which is also headed to the Catholic 7.
Seton Hall coach Kevin Willard said he and Rice had spoken about playing the game in "late December" at the end of the non-conference schedule — alternating homecourts each year.
"As we look at scheduling going forward I think it's important in non-conference scheduling we want to have an Eastern orientation to it," Pernetti said. "I think that's good for fans. I think we have a lot of good matchups in the region, whether it be Seton Hall, St. John's we intend to pursue all those because I think they'll be really good on our schedule. They're games we'd love to play."
Beginning in 2014, Rutgers will head to the Big Ten where they will have to line up with the likes of Indiana, Michigan, Michigan State, Ohio State and Wisconsin — all teams ranked in this week's AP Top 25.
Things will not get any easier for Rutgers and Rice, assuming he's still the coach in what would then be the last year of his current contract.
"As we move forward, this league, the Big Ten and otherwise," Pernetti said, "this is going to be the type of deal we're going to be facing for a long time in basketball."
Follow Adam Zagoria on Twitter
---
---
---
---